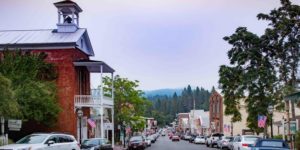 Aug 23 – 30, 2019
Every summer, the Nevada City Film Festival (NCFF) makes art into a party, bringing an audience of movie lovers together with emerging and top independent filmmakers to showcase award-winning short and feature length films from around the world. Join us for the 19th Annual Nevada City Film Festival, August 23-30, 2019, at the historic Nevada Theatre, new state of the art Onyx Theatre and Pioneer Park in downtown Nevada City, CA
This year's highlights include:
100+ Feature & Short Films
40+ Visiting Filmmakers
Opening Night Film – 50th Anniversary of Easy Rider plus a special pre-show talk with Timothy White, one of the world's most sought-after celebrity portrait photographers.
Special Screening of Ai Weiwei: Yours Truly dir. by Cheryl Haines with special guests
Midnight Movie of Satanic Panic dir. Chelsea Stardust with special guests
Closing Night Film Desolation Center feat. Thurston Moore (Sonic Youth), Mike Watt, Perry Farrell (Jane's Addiction), Meat Puppets dir. Stuart Swezey plus special guests
Workshops, Panels & Filmmaker Discussions
Free Saturday Morning Children Shorts
Filmmaker Residency: Zhang Xianmin, Professor at the Beijing Film Academy, film producer and critic, and organizer of the China Independent Film Festival
Nisenan Program – Through a grant from the California Arts Council the Nisenan Tribe will create their own film or series of shorts about their culture with the support of NCFF producers and Nevada County Arts Council
Best of the Fest – outdoor screening on Friday, August 30 with festival winners and audience favorites
Screenings at the historic Nevada Theatre, Onyx Theatre & Pioneer Park
Hikes, Arts Shows, Live Music, Sunday Filmmaker BBQ & More!
More updates to come!
Please note: Due to licensing restrictions all showings at The Onyx Theatre are age 21+